​​​​​ Montagne Majeste​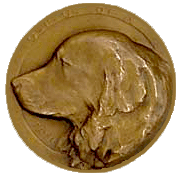 ​​ Grand Champion Lines of AKC Great Pyrenees
Karolaska & ​​Tip' N Chip
Head Study Medallion 1937 by Mr. R. Fath​
We have had Great Pyrenees dogs since the late 1980. Our children grew up with the Great Pyrenees. We have both owned show quality and rescue Great Pyrenees dogs over the years. We now have grandchildren and they have had the pleasure of growing up and playing with our family Pyrenees.
We are a family run kennel dedicated to breeding Great Pyrenees to AKC standards, health and above all their wonderful temperament. Our foundation Dam is from the Karolaska Kennel line and our Sire is from the Tip' N Chip's Kennel pedigree lines. The Tip' N Chip's Kennel has been dedicated to the Great Pyrenees for over a half century, breeding some of the top Great Pyrenees in North America and International Champions.
​
We do not take lightly all the breed dedication and years of oversight given by both of these breeders the Tip'N Chip line and Karolaska Kennel with Carol Kentopp.
​
We have had our Kennel name " Montagne Majeste" which means "Mountain Majesty" since the late 1980​. See home page and page regarding ... HISTORY OF GREAT PYRENEES
​
"Our goal is to breed only a few quality Great Pyrenees litters that will become beloved family members with all the traits to become Champions and Grand Champion Great Pyrenees."
​
​While living in Santa Barbara, California we have always had Great Pyrenees, and many other pets as well. We love our Pyrs and we know the amount of care that is required to maintain a healthy lifestyle for our Great Pyrenees.
We relocated in 2014 to beautiful Colorado with open spaces and majestic mountains.
​
We take great joy with personal interaction with all our puppies and their socialization and play. There is always someone present with the puppies while playing in the yard as they interact together.
​
We have provided photos, action videos and family shots throughout our website for one to see the quality care provided by "Montagne Majeste".
​
We taken great pride in quality care, quality feeding, early puppy stimulation, proper protection, oversight and updated veterinarian care. Veterinarian records are provided for each puppy with shot records and de-worming care.
​* Past Slideshow of our family photos and at the bottom are photos of our whelping room.​
Visit to the Vet. for first shots.
Grandson Christian playing puppy tag
Visit to the Vet. for first shots.
​*Slideshow - Double click to see images individually.
Whelping Room & Puppy Room. The Puppy room has gone through many transformations as the puppies have grow.
​*Slideshow - Double click to see images individually.