​​​​​ Montagne Majeste​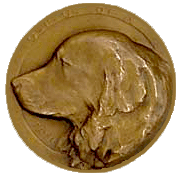 ​​ Grand Champion Lines of AKC Great Pyrenees
Karolaska & ​​Tip' N Chip
Head Study Medallion 1937 by Mr. R. Fath​
Montagne Majeste ~ Great Pyrenees Kennel
Photo Slideshow of past litters below.
"Montagne Majeste" ~ We have moved our Great Pyrenees Kennel from Santa Barbara, California to beautiful Colorado. Purshasing a ranch/farm surrounding by beautiful valleys and snow covered mountains.​
​
​"Our goal is to breed only a few quality Great Pyrenees litters that will become beloved family members with all the traits to become Champions and Grand Champion Great Pyrenees."
​
​Our foundation dam and sire are from the Tip' N Chip pedigree lines & Karolaska lines. Tip' N Chip Kennel and Karolaska have both spent close to a half of century breeding Great Pyrenees in North America and International Champions. ​
​
We are grateful to all the years of dedicated breeding work that the Tip'N Chip Kennel and Carol Kentopp with Karolaska Kennel have preformed.
​
* We have a new litter of 9 puppies available to the right homes.
Born on September 21, 2016 ~ Taking applications.
Our kennel name was chosen in the late 1980's. The first part of the name "Montagne" comes from the original name meaning "Mountain". The Great Pyrenees originate from the region of the Pyrenees Mountains that borders France and Spain. The original name for the Great Pyrenees dog is "Chien de Montagne des Pyrénées" ~ "Mountain Dog of the Pyrenees". Our second kennel name "Majeste" is French for Majesty. Because a Great Pyrenees dog is to convey the distinct impression of elegance and unsurpassed beauty combined with great overall size and majesty. He possesses a keen intelligence and a kindly, while regal, expression. Exhibiting a unique elegance of bearing and movement, his soundness and coordination show unmistakably the purpose for which they have been has been bred."
​
Great Pyrenees dogs are famous for centuries for their loyalty to their family, faithful guardians and sentry, the Great Pyrenees is just as well known for its dignified beauty and noble regal nature. Calm and gentle in temperament, coupled with their natural aloofness to strangers, the Great Pyrenees become very attached to their owners, and their families. Great Pyrenees are wonderful with children. Although affectionate and warm, the Great Pyrenees is inherently protective of home, property, family and flock. Their protective companionship makes them ideally suited as a wonderful additions to your family.
​Our Great Pyrenees are first and foremost beloved pets and part of our family. Although "Montagne Majeste" Great Pyrenees puppies are "show prospect dogs", however our first desire is that they will all be placed in loving and caring homes.
We do not train out Pyrenees for LGD (livestock guardian dogs), so we will not place our pups for any field livestock guardian work. Our Pyrenees pups are all socialized for companion and family life.
Great Pyrenees Club ~ Code of Ethic link..
NOTE: Website Home page top photo is of the 2012 Great Pyrenees Specialty Show. The photo represents the "Top 20 Great Pyrenees Dogs of 2012". The true majesty of the Great Pyrenees are represented and captured in this beautiful group shot by Debra. *Photo credit Debra Fisher Goldstein.
​​
If you have any questions please contact us.
Join us on Facebook at "Kathleen Matheson ~ Montagne Majeste Pyrenees"
​Thank you for visiting!
Tom & Kathleen
#303-663-7114 or #805-895-7853
*Photo Courtesy: Top Photo of Great Pyrenees Group Specialty Credit and Thanks to Debra Fisher Goldstein